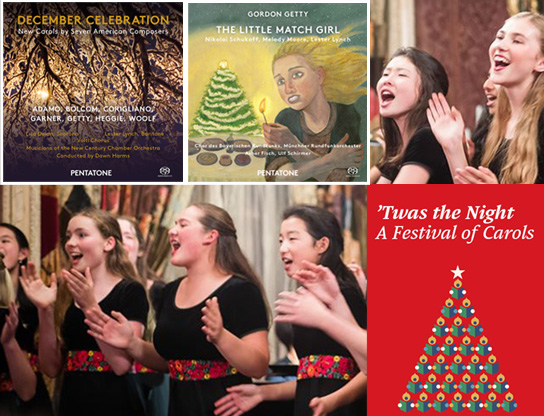 The month of December is typically chock-full of events, the most joyous of which inevitably involve music! This month marks the birthdays of three poets whose work Gordon Getty has set to music: Emily Dickinson on the 10th, Edwin Arlington Robinson on the 22nd and Mr. Getty himself on the 20th.
There will be two performances of Getty's holiday-themed music in the San Francisco Bay Area in 2019.
On Thursday, the 19th and Friday the 20th at 7:30pm, the San Francisco Symphony will be performing his arrangement of "Silent Night" as part of its "'Twas the Night—A Festival of Carols" program at Davies Symphony Hall.

Saturday, December 21, 2019 2:00 PM and 4:00 PM, 250 girls of the iSing Girlchoir will perform Getty's "Run to the Window," one of his Four Christmas Carols as part of its Family Holiday Concert at Mission Santa Clara.
More of the composer's holiday music can be enjoyed from the comfort of one's own home through several recordings.
December Celebration is a compilation of original works and new arrangements by American composers including Mark Adamo, William Bolcom, John Corigliano, David Garner, Jake Heggie and Luna Pearl Woolf. Gordon Getty contributes his Four Christmas Carols and arrangement of Silent Night to the album.

"The Little Match Girl" — from the album of the same name — is based on a short story about a dying child's dreams and hope by Danish poet and author Hans Christian Andersen. The story is set around Christmas and the New Year.
While it's not in the holiday theme, Angel Heart, A Music Storybook makes a wonderful gift for families with children. The whimsical tale paints a colorful nighttime journey of magic and healing and includes Getty's chamber work "Tiefer and Tiefer" arranged by Luna Pearl Woolf for cello ensemble. Jeremy Irons narrates the enchanted story penned for this recording by young reader's author Cornelia Funke, framed by new arrangements of traditional and contemporary songs curated by Luna Pearl Woolf and Lisa Delan.
As daily sunlight wanes to its lowest point in the year, music can light the darkness and spread holiday cheer. Best wishes to all during this holiday season!