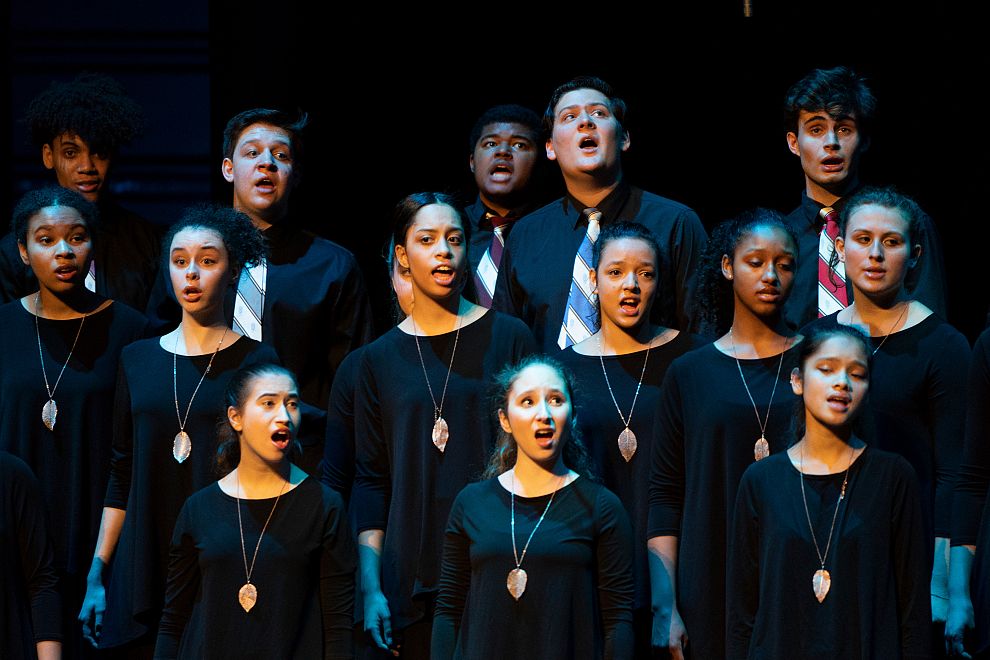 March 10, 2020
It was in all likelihood the final benefit of the New York nonprofit season before the reality of the COVID-19 crisis set in and Mayor DeBlasio began setting restrictions on public gatherings.

That Tuesday night, the Rose Theater at Jazz at Lincoln Center was filled with a sold-out audience of 1,100 to celebrate with the Young People's Chorus of New York City (YPC)—led by founder and artistic director Francisco J. Núñez—at its annual benefit gala and concert. As many as 400 children filled the stage at once with two dozen professional instrumentalists in the pit conducted by Nunez; supported offstage by two dozen staff members, 19 YPC alumni, and 70 volunteers.
Here's a glimpse backstage.

Hosted by songwriter/performer Jason Mraz with several special guests, the 90-minute show highlighted the talent and versatility of the kids ages 8-18.

Throughout the evening, composer and philanthropist Gordon Getty was recognized as the organization's Legacy Honoree and Artist in Residence for the coming season. YPC performed two Getty selections. The first was the multi-movement choral work Young America, adapted by Nunez for this performance and choreographed by Jacquelyn Bird.
Later, on Getty's arrangement of traditional favorite Shenandoah, the chorus was joined by soprano Lisa Delan.
YPC alum and star of Broadway's Freestyle Love Supreme Aneesa Folds also brought her stylings to the stage.
But the true stars were the kids themselves. Audience members experienced a full range of emotions and moved from grins to tears as the evening progressed. They reported leaving the evening filled with wonder, joy and love at the amazing accomplishments of these kids and this organization; feelings that carried light into the days of darkness to come.
In a postscript, YPC founder and director Francisco Núñez sent a note out to students, parents, friends and supporters two weeks following the gala.
"It is almost impossible to comprehend how all of our lives have changed so quickly. A little under two weeks ago, our children, our conductors and musicians were all together onstage accepting loud applause and cheers from a delighted, capacity audience at Jazz at Lincoln Center, a shining moment of happiness, and incredible achievement. Now, though we physically need to separate ourselves from each other to stay safe and well, I want to remind you that when it comes to music, nothing has changed.

"Our love of music is what brought us all together. It is a big part of what makes our lives meaningful and gives us purpose. And I want to reassure you that we will do all we can to continue to draw on music to keep us together, to cement and strengthen our bonds and keep ourselves connected to one another...

"In all we do, please remember that our love of music and the arts can lift us when we are feeling down or isolated. And yes, we look forward to seeing each other online very soon, but in the meantime, we need to stay connected, to encourage each other, to continue to love life. So choristers, do not be shy. Share some of the good news in your lives: what is making you laugh? What new great song do you love? Maybe you just received a college acceptance. We want to hear it all.

"We are not sure when we will be able to sing together in person in our cherished YPC home, but whenever that is, we will be ready: our spirits higher and our voices stronger than ever. I dream every second of that moment!

"Stay healthy, stay strong and keep on singing."

Francisco J. Núñez
Founder and Artistic Director
Photo Credit: Stephanie Berger, Young People's Chorus of New York City's Gala.